For fall sports fans, this was a weekend that really welcomed the college scene, with leaves turning colors in the backgrounds of stadiums, and a fresh feel to the air. We're about two-thirds of the way through fall sports seasons before conference playoffs begin after the end of the month.
Here's what happened and who was involved last week…
The St. Lawrence University soccer women won their fifth game in a row Saturday, besting Ithaca College, 2-1, behind two scored by Tyler Potter. Junior midfielder Maddie Sumple (Pomperaug) got off a shot in the win for the 9-1 Saints (3-0 Liberty).
Clark University's men are 8-4 after two wins last week, 4-2 over Western New England University on Wednesday, then 1-0 against Springfield College on Saturday. Senior midfielder Jonathan Guilherme (Oxford) got off shots in both games. The Cougars are 2-1 in the NEWMAC.
Senior defensive back Abbey Saia (Masuk) had a hand in both Rochester Institute of Technology wins last week. She took four shots and got an assist on the second goal by Christine Cataldo-Smith in a 2-0 win over Nazareth College last Tuesday. On Saturday, Abbey scored the final goal, unassisted, in the 4-0 victory over Bard College.
Abbey leads the 7-3 Tigers (2-1 Liberty) with six goals and two assists.
The Albertus Magnus College men split their games last week, losing to Sage Colleges on Wednesday, 3-1, then shutting out Rivier College in a Great Northeast Athletic Conference tilt on Saturday, 1-0. Falcon senior defensive back Tyler Saad (Naugatuck) launched one shot in the Sage loss. Albertus is 6-4-1 (3-1 GNAC).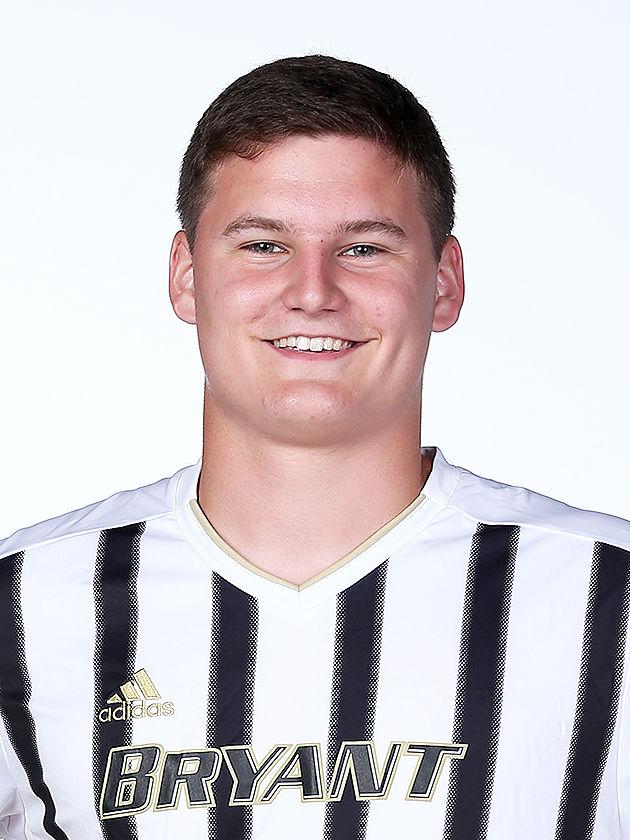 Bentley University's men are on a four-game win streak after dispatching Central Connecticut State on Saturday, 4-0. The Falcons have also won five of their last six. Senior defensive back James Cochrane (Newtown) has started every game for 5-3 Bentley (2-0 NEC).
Franklin & Marshall College's women split their two games last week, beating Hood College, 3-0, in a non-conference contest on Wednesday, then losing to Swarthmore in a Centennial Conference battle on Saturday, 1-0.
Freshman midfielder Emilee Adami (Southbury/Taft) scored her first collegiate goal against Hood. She linked with Nicolette Runko, who sent Emilee a crossing shot from the right side, which Emilee blasted into the goal in the 17th minute. The Diplomats led 2-0 at that point. She also had a shot on goal against Swarthmore, but without the same success. F&M is 5-4-1 (1-3 Centennial).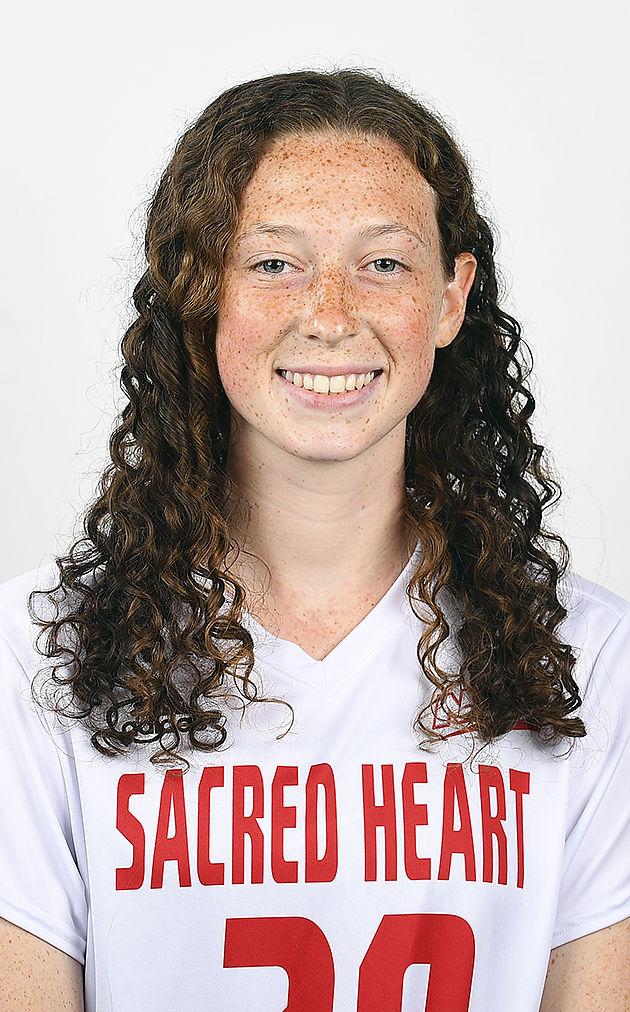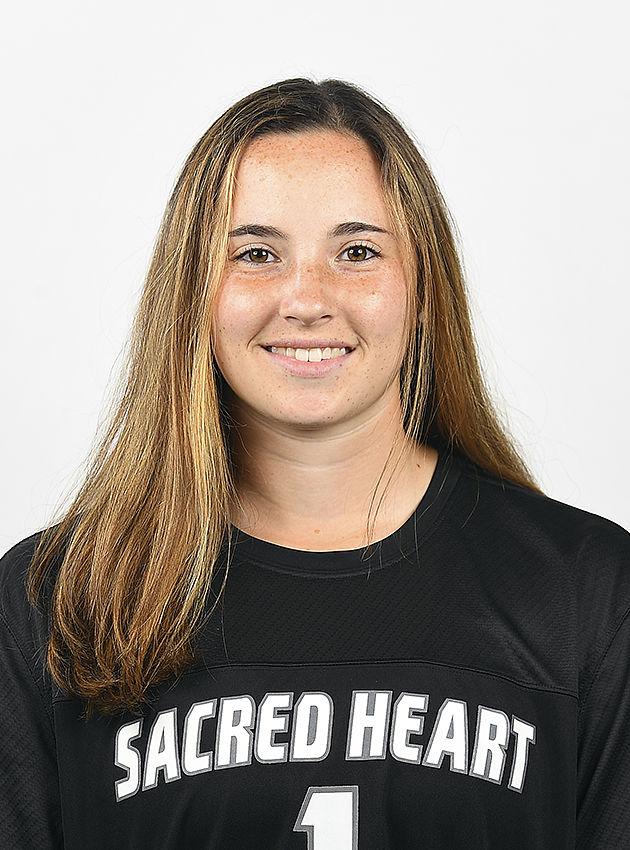 Sacred Heart University freshman striker Azria Malloy (Nonnewaug) got her third goal of the season, and her second game-winner, on Sep. 29 when the Pioneers edged St. Francis of Brooklyn, 1-0, in the 90th minute, with 41 seconds left in the game. Nichol Green got the assist on Azria's score. Freshman goalie Elyssa Kipperman (Pomperaug) earned the clean sheet by making two saves. The win improves the Pioneer record to 5-4-2 (2-0-1 NEC)
Freshman forward Breanna Gleissner (Pomperaug) got into the game for St. Francis, but did not take a shot. The Terriers are 0-10 (0-3 NEC).
Saint Anselm College's lone score against Assumption College on Saturday came from senior striker Caly Farina (Pomperaug), who connected in the 81st minute, fed by Delaney Bartol, when Assumption had a 2-0 lead. The goal was Caly's team-leading fourth of the season. The Hawks fall to 4-2-4 (1-2-3 NE-10).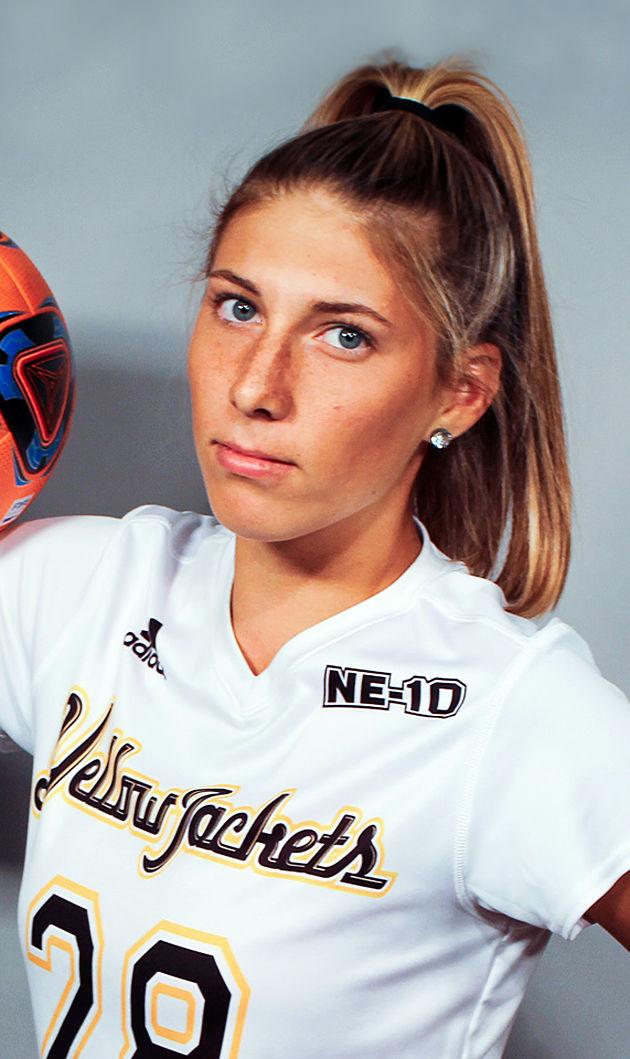 American International College had just one game last week, played on Wednesday, a 3-0 win over St. Michael's College. Yellow Jacket senior back Haley Wheeler (Oxford) got an assist on the first and game-winning goal, by Nicole Gamberoni, in the 43rd minute. That was Haley's first assist of the season. AIC is 4-4-1 (2-2-1 NE-10).
Scarlet Broderick (Pomperaug) played in just her third game of the season on Saturday. The Babson College junior defensive back got the start against Wheaton College and she didn't disappoint – she scored the lone Beaver goal in a 2-1 overtime loss, unassisted on a corner kick in the 68th minute. That goal tied the game, and it was the only shot she took. Babson is 4-4-1 (0-1-1 NEWMAC).
Franklin Pierce University's women needed an overtime to do it, but they knocked off Bentley University on Saturday, 3-2. Ravens' junior defensive back Allison Green (Nonnewaug) got into her first game of the season in the win; she didn't fire a shot. Franklin Pierce is 4-4-1 (3-3 NE-10).
Eastern Connecticut State's women picked up two wins last week, both close – a 2-1 victory over Rode Island College on Wednesday, and a 1-0 squeaker over Southern Maine on Saturday. Freshman defensive back Emily Belval (Pomperaug) picked up the assist on the game-winner against Rhode Island, the score by Stephanie Sanchez in the 48th minute. The assist was Emily's career first.
Figuring that if she can contribute to a game-winning score with an assist, her next move would be to score the game-winning goal, and that's what Emily did on Saturday against Southern Maine. She hit the twine in the 40th minute, unassisted, on a direct kick from just outside the box. The goal was her collegiate first.
Eastern is 4-6 (3-1 LEC) and Emily is just warming to the college game.
Senior striker Jack Kingdon (Nonnewaug) figured in all the scoring – grabbing one goal and assisting on another – but his Castleton State teammates could not get past Rhode Island College in a 4-2 loss. Jack scored in the 66th minute, unassisted, his 10th tally of the season. He earned the assist on the Spartans' first goal, by Ben Stewart. Castleton is 3-8 (1-3 LEC).
Columbia University scored the winning goal off a rebound from a penalty kick, getting a nice start on the Ivy League season with a 3-2 win over Brown. Lion senior midfielder Danny Laranetto (Shepaug) got off one shot in the win for 3-3-2 Columbia (1-0 Ivy).
Post University's women had their best week of the season, winning two games, first over Bloomfield College last Tuesday, 2-1, and then getting past Wilmington University on Saturday, 3-2. Junior defensive back Kaci Michaud (Naugatuck) put a shot on goal against Bloomfield. The Eagles improve to 3-3-2, benefiting from a three-game win streak (3-1-0 CACC).
Lynchburg College senior forward Sherman Mitchell (Pomperaug) got off one shot last Wednesday in what turned out to be a 2-2 draw with Bridgewater College. His Hornets are 3-3-4.
Junior midfielder Nikki Bisesi (Masuk) got her first goal of the year and her Felician College Golden Falcons won their second game of the season on Saturday, defeating Salem College of West Virginia, 3-0. Taking a pass from Paloma Garcia, Nikki scored in the 80th minute, putting the Falcons ahead, 2-0 at that point. Felician is 2-5 (0-4 CACC).
Some losses have more of a sting than others. The Northern Vermont/Johnson Badger girls went into Saturday's game with Maine/Presque Isle with a 0-8 record and kept their opponents at bay until the 84th minute, when Maine broke through for a single goal and the win. Senior defensive back Andrea Mercer (Naugatuck) got off one shot for the Badgers.
Rivier College volleyball won twice on Saturday and now has a 13-3 record with three weeks left in the season.
The opponents on Saturday were Framingham State and UMass/Dartmouth, both shut-out victims. Sophomore Sydney Racevicius (Woodbury/Cheshire Academy) led the assault against Framingham with a game-high 12 kills, one assist, for service aces and 12 digs. She cooled off a little against the Corsairs, with two kills and five digs.
Fairfield University won its seventh straight match on Saturday, dispatching Manhattan College, 3-0. Senior defensive setter Jamie Calandro (Newtown) played in one set, stroked two service aces and came up with three digs. The Stags are 9-4 (4-0 MAAC).
Albertus Magnus College split a double-dual meet on Saturday at St. Joseph's College of Long Island. The Falcons started with a 3-0 morning win over Lehman College, then ended the day with a 3-0 loss to St. Joseph's.
Freshman middle Diana Kalman (Naugatuck) had a game-high eight kills in the Lehman win, plus she added three service aces and three digs. St. Joseph's was ready for her in that match – Diana had three kills, a service ace and seven digs. Albertus is 7-11.
Central Connecticut State is on a three-game win streak for the first time this season after shutting out Merrimack and St. Francis of Brooklyn last week. Senior libero MacKenzie Dobbins (Oxford/Notre Dame) had two digs against Merrimack. The Blue Devils are 7-9 (2-1 NEC).
Emmanuel College hosted a double-dual match on Saturday and lost both ends, but scrapped in both – 3-1 to Colby-Sawyer College, and 3-2 to Suffolk University. Sophomore Kelli Haigh (Nonnewaug) played two sets against Suffolk, contributing one dig. The Saints are 5-10.
The ladies from Massachusetts Maritime Academy won their first volleyball match of the season, knocking off Anna Maria College. That was in September. The Buccaneers have played 13 matches since and haven't emerged victorious in any. Last week Mass Maritime was shut out by Framingham State on Wednesday, and by Nichols College on Saturday.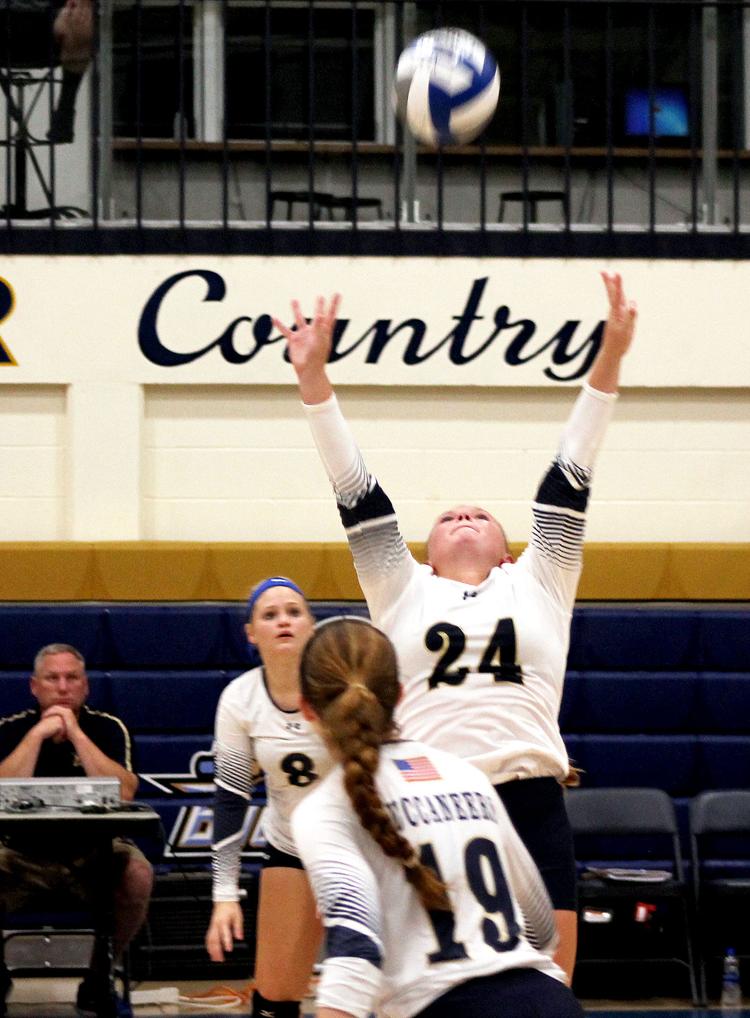 Junior outside hitter Maddie Coughlin (Masuk) made one kill, had 13 assists and five digs against Framingham; against Nichols, she had 10 assists, eight digs and a block assist.
Safety Allen Gibson (Seymour/Fairfield Prep) and free safety Joe Padgett (Newtown) had their hands in a 30-24 win for Endicott College football on Saturday as the Gulls vanquished Salve Regina University. Allen, a grad student, made four tackles. Joe, a freshman, made three tackles plus an interception, which he returned nine yards. Endicott is 4-1 (2-0 Commonwealth Coast Conference).
Plymouth State feasted on Fitchburg State on Saturday afternoon, 42-0, bumping the Panthers' record to 4-1 (2-1 MASCAC). Junior defensive lineman Xavier Pinckney (Oxford) had one tackle on the win.
If you love small-college football, Saturday's explosion between unbeaten Amherst and Middlebury colleges was where you wanted to be. 
It took two overtime periods to settle things after the game was tied, 28-all, in regulation. Amherst kicked a field goal in the second OT period, but Middlebury answered with a nine-yard touchdown pass for the win, 34-31.
Mammoths' junior linebacker Tristan Andrzejewski (Seymour/Notre Dame) was in the game for Amherst but did not record any stats. The Mammoths are 3-1.
Franklin & Marshall College ran into seventh-ranked and undefeated Muhlenberg College on Saturday afternoon and got hammered, 49-6. Sophomore cornerback Mario Lambiese (Pomperaug) made one tackle for the Diplomats, who dip to 3-2.
The stats may have all been in Trinity College's favor, but Hamilton College gave the Bantams a challenge on Saturday, finally losing, 31-24. Both teams walked off the field with 2-2 records.
For the Bantams, junior defensive end Jimmy Christiano (Middlebury/Avon Old Farms) made four tackles and had a sack for a 10-yard loss. 
Hamilton sophomore defensive lineman Alex Street (Newtown) made one tackle.
Anna Maria College is still looking for its first win after allowing Apprentice School of Newport News, Va. to score 21 points in the second quarter, eventually losing to the Builders, 35-20. AmCat junior nose guard Kevin Suppan (Masuk) made one tackle and recovered a fumble. Anna Maria is 0-5.
Brown University scored 14 points in the final quarter but it wasn't enough as the Bears fell to the University of Rhode Island, 31-28. Sophomore defensive lineman Anthony Mastroni (Monroe/Fairfield Prep) made one tackle for Brown, which is 1-2.
Junior linebacker Cormac Roe (Newtown) made three tackles for Catholic University on Saturday against Coast Guard Academy, but the Cardinals' win streak remained consistent and non-existent. Catholic is 0-5 after making a third-quarter rally to tie the game, but then lost it in the last quarter, 20-14.
Sophomore quarterback Matt Hersch (Masuk) completed 15 of 16 passes for 133 yards (no picks) but was sacked three times and could not get his Colby College team on the board in a 17-0 loss to Williams College on Saturday afternoon. The Mules are off to a 0-4 start.
The Marist College football team jumped on a big jet airliner and crossed the country to play the University of San Diego Toreros on Saturday. The Red Foxes kept the game close for most of the first half, but ended up getting handled, 31-7. Junior wide receiver Ethan Carpenter (Newtown) had a big day for Marist with eight catches, good for 83 yards. Freshman running back Hunter Cobb (Newtown) had eight carries, for 19 yards. The Foxes are 1-4 (1-2 PFL).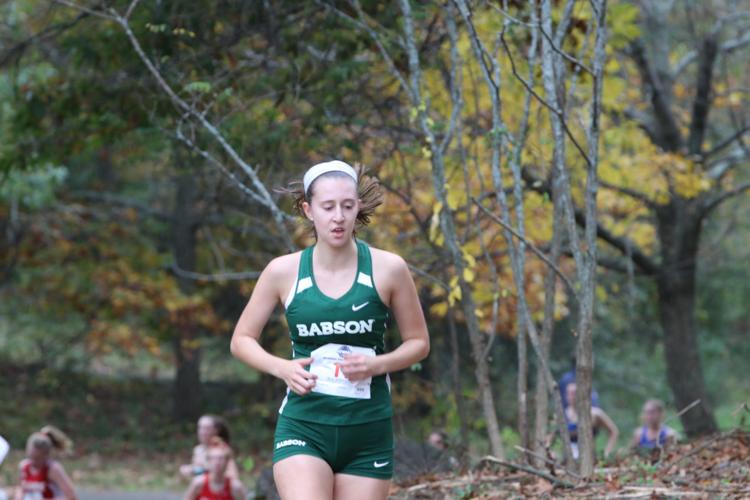 The Babson College women finished 10th as a team at the Keene State College Cross-country Invitational 5K on Saturday. Junior Caroline Winicki (Middlebury/Taft) was the sixth Beaver to complete the course (21:22.9), in 88th place in a field of 128 runner.
Boston University junior Corinne Batsu (Masuk) was 88th (21:10.9) in a field of 351 in the Women's Gold 6K at the 46th annual Paul Short Run at Lehigh University on Saturday. Her team finished 16th in the field of 41 colleges.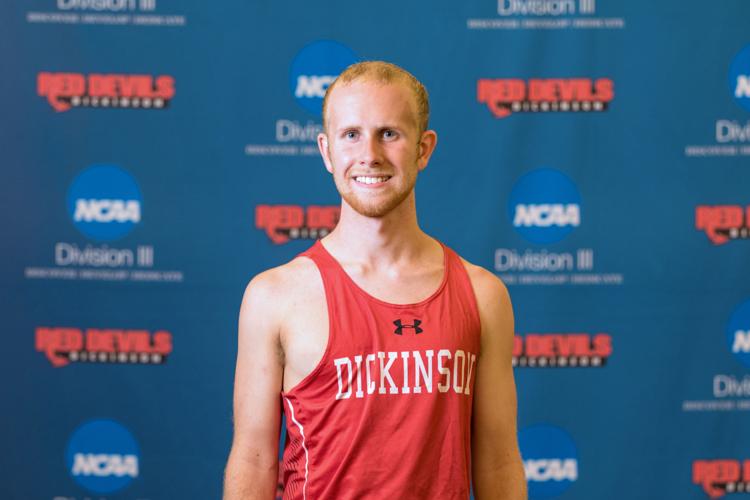 Dickinson College senior Ethan Burg (Newtown) was 444th (28.54.2) in a field of 603 in the men's open 8K.
Lycoming College senior Kayla Nowak (Newtown) was 360th (34:46.9) in the women's White 6K, in a field of 374; her team finished 41st.
Lehigh University junior Erin Tressler (Newtown) started the race but did not finish.
Eastern Connecticut State sophomore Ryan Escoda (Newtown) came in fourth (26:43.53) at the Tri-State Invitational 8K at the Community College of Rhode Island on Saturday. Senior teammate Mike Braley (Oxford) was 70th (34:40.85) in the 92-runner field. The Warriors were second of the nine teams entered.
The Warrior women were also second. Freshman Erin McGrath (Shepaug) was 48th in the women's 5k (24:35.04).
Saint Anselm College field hockey continues to steamroll its opponents – the Hawks shut out ninth-ranked Southern Maine last Tuesday, 2-0, then wiped out American International College, 4-0 on Saturday. Saint Anselm has won nine straight games and the Hawk defense has yet to allow a goal. Senior defender Anna Drakeley (Nonnewaug) has started all nine games for the Hawks.
Babson College won both its games last week and improved to 8-3 on the season, 3-0 NEWMAC. Senior back Haley Pesce (Shepaug) got into both games: a 4-0 win over UMass/Dartmouth on Thursday and a 6-2 win over Mount Holyoke on Saturday, but did not take a shot. She did get a green card warning for aggressive play in the shutout, so, the Corsairs knew she was on the field.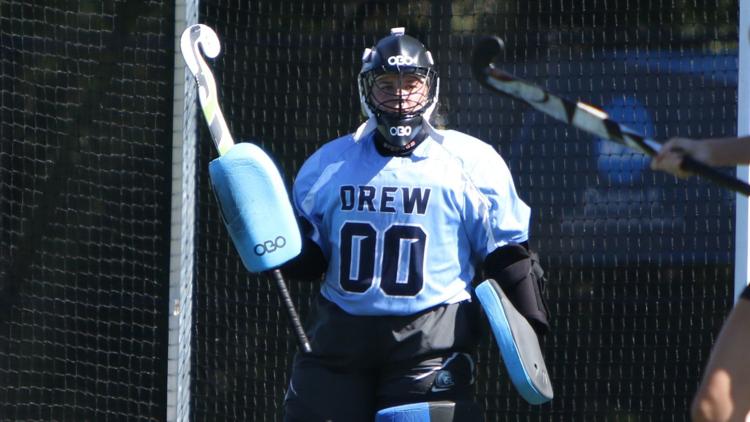 The losing streak goes on for Drew University, which hasn't won a game in a month. On Saturday, Catholic University bashed the Rangers, 7-0. Junior keeper Joie Slossar (Nonnewaug) was in front of the net for Drew and she stopped 14 shots while her rivals on the other side of the field had to deal with only four shots on goal. Drew is 2-10 (0-2 Landmark).
McGill University junior attacker Scotty Bauer (Newtown) scored the eighth goal in a 9-4 win over Ottawa in Canadian University Field Lacrosse Association play on Sep. 29. He got his goal with 7:23 left in the fourth quarter, with an assist by Seth Obadia. Senior midfielder Quentin Norris (Pomperaug) got into the game for McGill but did not register a shot. McGill is 6-0 and leads the CUFLA East Division.
Central Connecticut State's women opened their season on Sep. 28 by winning the Fairfield University Invitational. Senior Gracie Regan (Pomperaug) swam the first laps of the second-place 800 free relay (9:42.60), came in third in the 200 breaststroke (2:50.12), was fourth in the 200 individual medley (2:35.47) an anchored Central's fourth-place finish in the 400 free relay (4:18.24).
Sophomore Hallie Perrin (Pomperaug) took fifth in the 50 free (28.18) and the 200 backstroke (2:30.87), came in 11th in the 100 butterfly (1:14.07) and swam the second leg of the second-place 400 free relay (4:07.26).
For the second time in his first season of collegiate cross-country, Central Connecticut State freshman Elias Field (Nonnewaug) was named the Northeast Conference Rookie of the Week, announced by the league's office last Wednesday afternoon.
Elias was the first NEC freshman finisher at the 17th Annual Ted Owen Invitational hosted by Central Connecticut State in Stanley Quarter Park in New Britain the previous Saturday. He ran the 8K course in 27:13.2, was the third Blue Devil to cross the finish line and 17th runner overall in a field of 175.
Have news about a local athlete who is competing in a college sport? Please share that with us at john.addyman@yahoo.com.